Industry security
Security Patrol Services
FSOguard offers a security patrol service. With our specialists, you and your business are under reliable protection. This system is quite a fragile structure for which guaranteed safety and time of transactions and deliveries are of high importance. In the modern world, there is always the danger of unforeseen situations, such as robbery and armed attack. Entrusting your cargo or motorcade to our company, you can be sure that you will arrive at your destination safe and sound.
We know exactly how to prevent any danger! There are a huge number of dangerous options when the life and health of your employees or cargo can be threatened. Therefore, armed security for business is the best way to preserve your assets. Our security guard patrol services provide full protection in any situation and reduce the likelihood of theft and harm to health to zero.
About FSOguard team
FSOguard carefully and carefully selects candidates for work in our agency. Each security guard undergoes special commissions, training, as well as physical and psychological training. Therefore, you can be confident not only in the quality of protection but also in the tactful and delicate attitude of each employee.
All officers are equipped with the required equipment and weapons, which have all the mandatory licenses and permits from law enforcement agencies. The fleet of special equipment is regularly updated and all vehicles undergo maintenance. They are in excellent condition and ready to move out at any time.
Our protection service is attentive to all the wishes of clients and takes into account all the nuances of each case. We are ready to offer suitable solutions for any non-standard situations. Contact our managers and describe your case. We offer the best solutions to keep you satisfied, alive, and well.
Our agency operates in Florida, namely in such cities as Jacksonville, Miami, Tampa, Hialeah, St. Petersburg, Cape Coral, Gainesville, Hollywood, and others.
Requirements for employees
When ordering security patrol companies, you receive high-class assistance. Everyone cannot become our employee, because we understand the danger of work. It should be performed only by trained and reliable people.
Therefore, when recruiting for service in FSOguard, we make the following requirements:
Driving license
No police records and no previous convictions
Stable psychological state
Good literacy level to record witness statements
A responsibility
Willingness to work at different times and conditions
Security license.
We work in the area of US law, in particular the state of Florida. We have a license and permission to conduct private security activities, use weapons that are the property of our company. Under Federal Law 790.25 (3), to carry guns openly is prohibited, so our employees do not display them in public. All employees are armed and adequately staffed so as not to break the law and reliably protect clients.
Patrol services we provide
Our security guards and patrol services provide a full range of services for patrolling territory and escorting cargo, cars, and motorcades. It is generally believed that patrolling is required in residential complexes, in holiday villages, near hotels, or construction sites. However, protection is required in the field of business, cargo escort, and large transactions.
An armed security guard in a special uniform gives you not only moral confidence in safety but also serves as a real protective measure against offenders, thieves, and hooligans. Customers make a business more serious if they see that it can provide reliable protection for themselves, goods, and customers.
In the case when the permanent staff of the defense department is not required, mobile patrol services are a more convenient and cost-effective option. We offer all types of territory protection and escort.
Patrolling outside commercial and residential objects
Our specialists patrol the territory of residential complexes, hotels, industrial areas, and construction areas. Particular attention is paid to the reliability of door and window openings, as well as parking lots for cars and motor vehicles.
They walk around the site several times a day, even if it is equipped with video cameras. We know that today hackers can disable and break cameras, so we regularly check them. Officers pay attention to every little thing, so the risks of unauthorized intrusion or theft are entirely excluded.
Internal patrolling of commercial and residential buildings
Security patrol services are also involved in organizing the internal protection of objects.
Patrol service is also required within the buildings. We work with:
Retail stores and large shopping centers,
Educational institutions,
Medical institutions,
Banks and other financial institutions,
Entertainment organizations,
Stadiums and sports complexes, sports halls,
Office buildings,
Concert halls
Parking lots and sea docks,
Workshops, etc.
The officer must be dressed in a special uniform, has a badge, and other distinctive features. So, visitors and building employees can immediately see him and ask for help. For residential complexes, hotels, and business centers, our clients often hire concierge security. Their severe look scares off petty hooligans and contributes to the peaceful atmosphere.
Being in the building, the patrolman not only monitors the video cameras showing the situation in all rooms and outside, but also performs several other tasks:
inspection of premises;
protection of valuables, safes, documents;
monitoring for suspicious activity.
To ensure safety at events, you can order event security guards. They check the premises before the event, arrange access control for guests, and patrol the territory and surroundings during the event.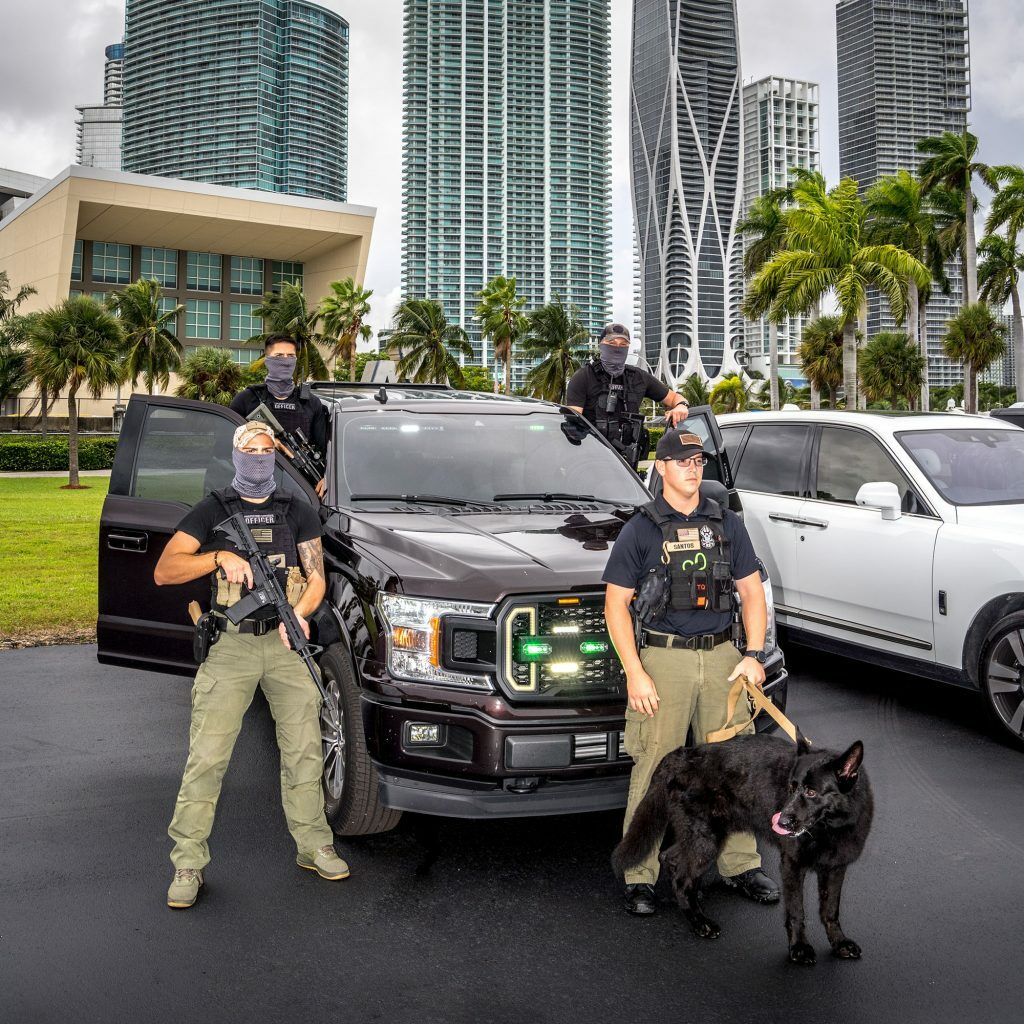 Departure for alarm calls
In addition to constant patrolling, we suggest installing panic buttons for urgent calling the patrol service. The armed detachment leaves immediately after the alarm is triggered. If the alarm is triggered by an attack by robbers or vandals, the patrol officers will send the intruders to executive protection serving. They make up a protocol, conduct interrogation, and, if it is impossible to resolve the issue on the spot, transfer the intruders to the police.
Situations requiring escort
The help of armed guards from FSOguard is essential during:
Business trips of employees or a manager. A foreign country – other laws and rules. Protect yourself or your employees from being attacked or robbed on a business trip by sending armed guards with them.
Transportation of valuable goods. An armed escort provides armored vehicles and a team of specialists who protect your valuable property.
Negotiating. Negotiations may be interrupted by third parties whose intentions are contrary to the law. To prevent it from happening, we implement a special armored, soundproofed room with armed security and patrol services, in which you can negotiate without extraneous noise.
Who are our services suitable for?
It is believed that the guards are hired by either very wealthy businessmen or celebrities. But security guard and patrol services are available to everyone worried about their safety and the protection of loved ones, as well as their property. Therefore, you work with different clients and provide quality services.
The following categories of consumers can use our professional options:
Large, medium, and small business owners;
Lawyers and lawyers, judges;
Realtors and property buyers;
Parents and other relatives who are concerned about the safety of their loved ones;
Foreign guests.
As a result of the cooperation with FSOguard, you receive the following guarantees:
Full confidence in the safety of life and health of loved ones
Safety of property, valuables, and significant documentation
Lack of worries and worries about yourself, family, and valuable things.
When is patrol required?
Patrol officers have become an integral part of modern life. We meet them at enterprises, government agencies, on the territory of private property and hotels, educational institutions, etc.
Their responsibilities include a wide range of services:
Inspection of badges of company employees, as well as registration of visitors to the building;
Control over video cameras, security systems;
Companion to the car and transport, along the entire route of movement;
Daily patrol of the area of a residential complex or industrial enterprise;
Protection of the section from vagabonds, illegal immigrants and other offenders, outcasts, removal from secure areas;
Patrolling the territory at night.
Besides, our clients apply for patrols or escorts in the following cases:
registration of notarial transactions (purchase and sale of real estate, sighing a will, etc.);
travel to the court session, business meeting, to the airport and back;
transportation of a large amount of money in cash or valuable cargo (jewelry, documents, equipment);
meet a child from school, go on an excursion with a group of pupils or students.
protection of sensitive objects of special importance and immovable property.
FSOguard employs qualified armed or unarmed security services with CPR/First Aid certification to operate patrol vehicles. The vehicle fleet contains a sufficient number of cars, therefore, the patrol leaves immediately for any alarm call.
How we are working
FSOguard specialists carefully study all protection schemes and plan the future route, possible actions.
Our security patrol companies work on several steps:
Employees carefully plan to accompany each client.
Makeup and approve the safest route (from point A to point B).
They negotiate the duration delivery methods and all possible nuances.
A three-unit specific unit provides the service. They are equipped with everything essential for work: a vehicle, modern means of communication, special equipment. Have undergone special training and have the skills to provide first medical help. They react tactfully and professionally to the occurrence of force majeure.
Our advantages
Only professionals should protect your life and property. That's why FSOguard could provide you with high-qualified and well-trained specialists. All our officers and guards undergo special training and courses. So, they are ready for any unexpected situation. They could predict and prevent any danger, minimize risks, and damage to your property and health.
We are the best in the security services market because:
We assess risks and prevent almost all possible obstacles, developing the safest route.
The response team leaves for your place immediately after receiving the alarming signal and arrives at the position in just a few minutes. Attackers have no chance to hide and cause serious damage to your business or personal property.
Surveillance and protection of several objects at once.
Strict adherence to local laws and regulations, no negligence, arbitrariness, or illegal actions. After eliminating a dangerous situation, our employees always call the police and provide basic evidence.
We control security during a transaction, transfer of goods or accompanying a client on a business trip.
We cooperate with law enforcement agencies, which allow us to jointly catch the attacker in the shortest possible time.
We solve emergencies without hesitation.
Leave a request and be under reliable protection. Security patrol services are a shield for your business.
Regular training of employees and rigorous selection of squads.
All of our officers are retired military, former police officers, security guards who have undergone special training. Therefore, trusting us the most precious thing – you are in good hands!
Your safety is our priority
With the FSOguard agency, you stop worrying about cargo, travel, storage facilities, family, and friends. Now you have a reliable assistant and 24/7 protector. In case of an accident, we are the first to come to the scene and save it until the arrival of the police and other services from curious onlookers. So, you will be confident in the reliability of the evidence and the purity of the investigation. If the client wishes, our investigation services can conduct an additional, independent survey.
By starting cooperation with the FSOguard agency, you experience the ease of doing business and the benefits of protected privacy. You can contact us at the indicated numbers, in WhatsApp, or leave a request by email given on https://fsoguard.us. The support service processes incoming messages on the same day and then calls back to the customer at any convenient time.
EXECUTIVE
PROTECTION SERVICES