Personal security
Armed Security
In the modern world, each of us wants to feel safe. People would like to make sure that our life is not threatened at home, work, or other events. We try to use the usual precautions, but we want to protect our lives. Our company will keep you safe because FSOguard provides a reliable way for security. Our agency has a professional team and high-quality equipment that meets modern standards and Florida state law.
About FSOguard
Our goal is to provide you with reliable agents who will carry out quality work to protect a group of people, a building, or an event. We also have other areas such as private investigation, hospital security, remote monitoring, and more. All our customers can be sure that they will receive reliable and qualified guards with specialized skills, legal equipment, licenses, and extensive experience.
They try to prevent the threat and resolve any dangerous situation. We closely monitor each group to know the state of affairs and the status of the situation. If you need mobile patrol or another service, now you can get it at an affordable price.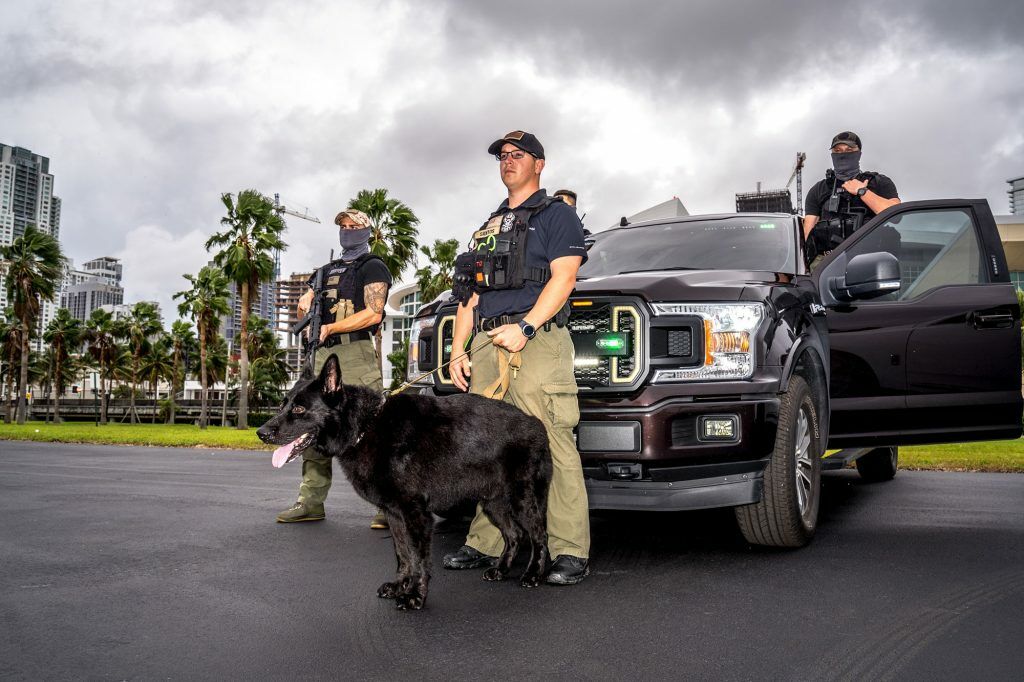 Protect you and your business
Today's environment suggests that any building or public event may be the target of terrorists and other potential criminals. There is no room for error, so our team will provide you with reliable protection. Our services are created to ensure that your safety is no longer at risk. You could be sure that you need a trusted security company to secure you, your family, business, event, guests, VIPs, or building. Such a unique task must be performed by real professionals and now you can find them in our armed security company.
The experienced team undergoes an annual check for carrying weapons to document its correct and safe use. All equipment is licensed and certified, this is the property of the company. We give our clients the best possible quality of maintenance because we know the difference between a simple security guard and a "warm-body" specialist. Our agency will provide the best level of protection because our officers have a high level of professionalism.
Armed security: service directions
Our clients are people of different social status: from businessmen and celebrities to ordinary individuals who want to protect their lives. The areas of work of our security are almost unlimited.
The list of the highly-demandable ones is presented below:
exhibitions
building protection
personal accompaniment
concerts
film presentations
school activities
festivals
trading platforms
jewelry exhibitions
private collections
parties
protection of residential, special-occasion, and commercial premises, etc.
Our group works not only for large businesses but also for small private orders. You can make any event unforgettable for you and we will take care of the maximum safety for you, your guests, and loved ones. Our company is one of the best because we conduct a clear selection of each employee for private armed security. All our guards are trained men with legal equipment and special skills.
If you made an order, our team will go to the place to find out the situation. This is important for detailed planning of subsequent work to provide the client with maximum security. Our agents take into account all the factors that can be useful in helping people. We also use various techniques for checking and inspection. Tell us your requirements, and we can build a clearer plan of action.
Our security team
If you come to FSOguard, you will receive quality service with careful preparation and study of all details. We only offer qualified personnel who have undergone specific training. Our goal is to give you more security guarantees, so our group will provide reliable assistance in any situation. Each client's order is executed in several stages, and we pay special attention to preparing.
We provide services throughout Florida (Miami, Miramar, Jacksonville, Pembroke Pines, Orlando, Clearwater, Coral Springs, Tallahassee, and others). Our team quickly prepares for each order and provides fast responses to emergency situations.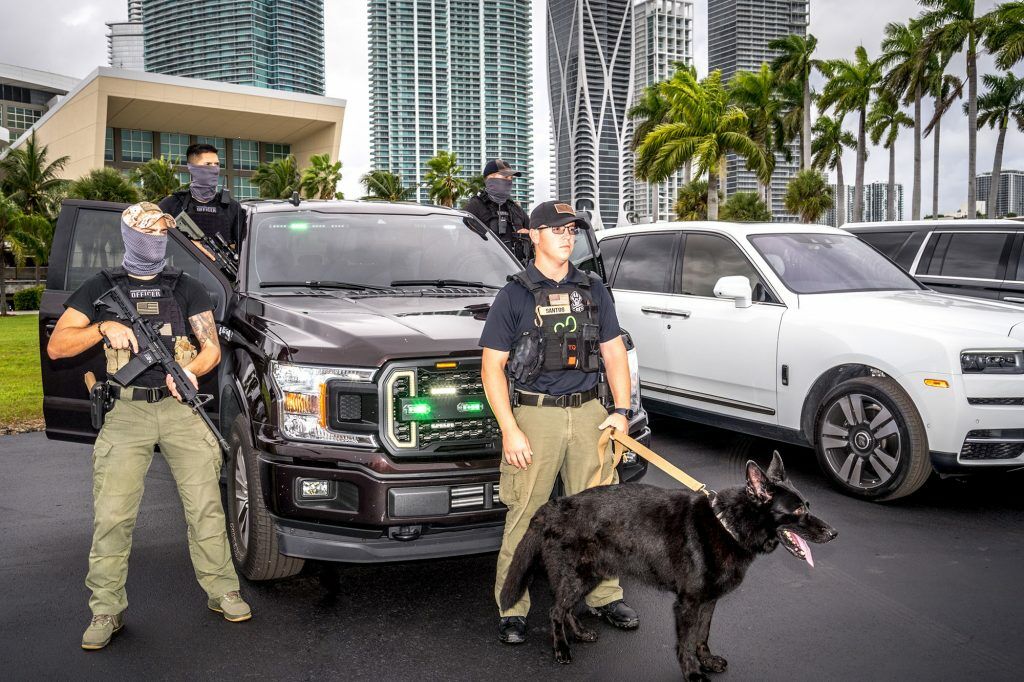 Well-trained and experienced staff
There are certain requirements for their selection and approval for the position of the professional guard. All employees undergo the necessary training on various topics, so we send only the best agents to our clients. Our company has introduced many disciplines for training so that our experts know not only the combat techniques and weapon skills but also can affect a person and prevent a critical situation.
We train our security personnel, license, and comply with Florida law. We know that according to law 790.001 (9) the carrying and use of firearms (except machine guns), a knife, an electronic weapon, a tear gas pistol, and a billy is permitted. Our agents follow these rules and are licensed for 7 years. Our armed guards are reliable so you will be satisfied with their work.
All candidates undergo extensive training that includes a course on:
the lawful use of force
the use and possession of firearms
rules of conduct in an emergency, and more.
If you need executive protection serving or another type of defense, please contact our managers. All our security guards go through the necessary documentation to protect the interests of the customer and reduce risks. Employees of our agency undergo regular refresher courses and training to keep them in shape. We will prove that the team of FSOguard is not just armed security, but professionals who can solve any dangerous situation in a legal, safe, and ethical way.
Preventive and safety measures
All armed officers pass certain regulations. Even if clients need concierge security, they will want to hire real experts. Our group studies different types of situations to be ready to respond quickly. We understand how important it is to protect the life and property of the customer, so we attentively train our personnel.
Our specialists have chosen an advanced training method so that the armed security guard could learn more useful information and acquire various skills:
patrolling methods
information about terrorism
maintenance and care of firearms
crime prevention
extinguishing a fire
civil responsibility
the lawful use of force
prevention of accidents
ways of communication and influence.
Legal weapon and military equipage
Our agency provides prof guards with reliable equipment so that they can clearly carry out their duties for security patrol services. We carefully study current rules to ensure that our armed team, their skills, and equipment are consistent with law enforcement officials. By studying the services of other armed security companies, we equip our specialists with the most modern tools: uniforms, smartphones with special applications for reporting, gathering evidence/information for contacting the company and customers.
We will be happy to protect you so we have assembled a team of prof experts who do their job responsibly and attentively. If you need event security guards or another type of protection, leave an online request or call us. We value your time, life, and property, so we will use different ways to protect it.
Prof preparation
FSOguard conducts a preliminary conversation with the client to find out the specifics of his wishes. Safety is the most important thing, but this requires precise planning of the task. This can be personal or business protection, but such a procedure needs scrupulous preparation. You indicate the place and our group examines all the details of the premises, entrances/exits, the area of ​​space, the likely types of threats, and the possibility of their elimination. We will not miss a single element because we take into account any points such as weather conditions, lighting, sunset time, and wind direction. Any item might be important to protect a person or to keep the building's visitors safe.
Strategy for the best defense
For the safety of the client, we have divided our planning into specific categories. It is important to pay attention to all the details. We take into account different factors and collect more information about the type of event, location, people, rescue services, evacuation exits, and other aspects that will help protect people.
Our protection team will find all contacts with rescue services (firefighters, police, ambulance). Such agencies can be critical for dealing with an emergency. The armed staff for personal safety and other investigation services will always know where to call to help people in a difficult situation effectively and in an organized way.
The prof team will inspect the place and premises to control access. Where people enter and exit a building or how they go to events. This area must have reliable protection in case of unforeseen circumstances. Some categories of citizens may pose a threat to others, therefore, our guard will take preventive measures to make the area of people's ​passage for more protection. We add equipment and improve the checkpoint.
Studying crowd behavior is also very important for its management capabilities. We don't know all the information about each person, but our guard studies models of human behavior. They can look closely at the crowd to identify more insecure, irritable, and aggressive people. Also, clusters can be a threat if there is a leader there. A potential criminal might be one and become a problem for a building or event.
Our experts use communication and influence techniques to calm and disarm the criminal. Nearly all armed security services use a wide variety of equipment to closely monitor an event or building. This is not only the control and inspection of people but also a general survey technique to detect theft or prevent a threat. We use modern gadgets for communication and control (walkie-talkies, smartphones, TVs, scanners, and more).
How to protect your life and business?
If you are planning to attend an important event but are afraid for your life, then call us. Our company also organizes a group of security guards for clubs, parties, exhibitions, or private gatherings. FSOguard will protect you and your guests. You can hire an armed guard for a specific person to protect him while walking or attending a specific event. We discuss all the details to ensure maximum reliability. Now you know that our armed security Miami company will help you in any situation. Our clients are not only different groups, people, buildings, and event organizations, they are also international celebrities. Any customer is surrounded by special attention.
Your business also needs to be safe, especially if it is a building with a lot of people. You need to think carefully about protecting all employees and visitors. Unfortunately, the issue of terrorism still exists and almost all businessmen want to protect their buildings and staff. Our team of security guards will bring the necessary equipment to carefully examine each visitor. Don't let your business be in jeopardy if you overlook the importance of safety.
Why particularly us?
FSOguard provides reliable security guards that have undergone a clear selection and specialized training. We value our agents, so we want to give them the best knowledge and skills so that they can do their job well. A rigorous selection process is one of our hallmarks as a trusted agency for the provision of private and large-scale protection services. Our electoral commission prioritizes candidates with military or law enforcement experience.
You can trust our company because:
we give you real professionals with skills in various fields;
armed guard or unarmed security services do everything possible for your safety;
modern licensed equipment complies with the laws of the state of Florida;
quick preparation for any order (planning, selection of personnel and technique, an inspection of the premises);
any emergency is effectively resolved;
round-the-clock contact with the client;
a solution of any conflict situations on the spot;
an individual approach to any requirements for the protection of people, buildings, or events; affordable prices for services considering the importance and life protection.
Trust us with your safety, and we protect you and your business from any threats. Hire armed security for any event to ensure the safety of your visitors. Our agents will help you resolve any conflict and save your life.
EXECUTIVE
PROTECTION SERVICES